This post shares more gift ideas for tea lovers, focusing on giving tea classes and the opportunity for online tea community. It is part II in a two-part series of gift ideas.
So, you are thinking about gift ideas for a friend or family member who is a tea lover. This may seem counterintuitive, but giving tea can be a challenge unless you have a very good idea of what kinds of tea the intended recipient loves and what they already have in their cupboard. For this reason, the first post in this two-part series focused on tea-themed items like stationery, jewelry, and apparel. This second post likewise focuses on non-tea gift ideas for tea lovers. But, instead of tea-themed items, it highlights tea classes and opportunities to be part of an online tea community.
Individual or Series of Tea Classes as Gifts
Why not given an experience instead of an object? A tea class could make a great gift for tea lovers. Tea classes are available online and in person and address a wide range of topics. They can focus on everything from tea's role in the American Revolution to different tea regions or brewing methods.
I had planned to recommend several places where I have taken and enjoyed a few classes. But, there were issues with two of them. One couldn't clarify in time whether their gift cards applied to classes. In another case, the company is about to transition to a new system that won't allow gift cards bought in December to be applied after they transition in the new year. So, I'll circle back to these places later.
One place I can very enthusiastically recommend *now* for giving a tea class or two is Being Tea. You can gift tea event tickets from the Being Tea events page. (More on Being Tea, below.) Upcoming December 2022 Being Tea events include, for example, tea with plush friends and a winter solstice program.
Tea Classes that Offer the Gift of Community to Tea Lovers
If you are looking to give a more substantial gift for tea lovers, I wholeheartedly recommend giving a one year Being Tea membership. I have been a member for a couple of years. It has been a fantastic experience! I have learned, become part of a community, made wonderful friends, and deepened my tea practice.
Sooz Hammond is the creator behind Being Tea. They are a skilled teacher and facilitator (and I should add, a wonderful human being) with years of experience in the tea industry and teaching spaces. According to the Being Tea website (and my experience), the membership "program offers year-round tea education and community experiences that are both self-guided and interactive." In addition to the chance to join live and new events every month, there are over 200 video recordings of classes that members can access. What a generous gift for tea lovers!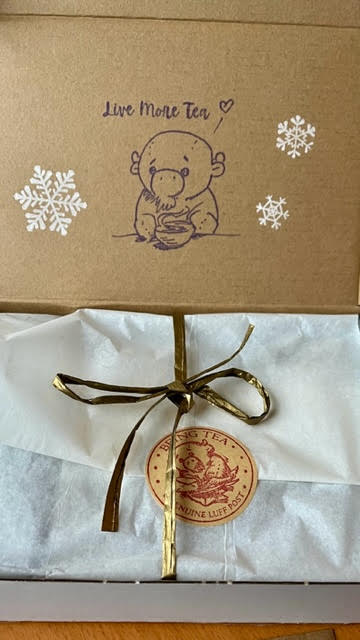 There is something for everyone! I've attended classes and events, for example, that explore different teas and regions, introduce different kinds of teaware, provide practical advice on what teas to stock, and spotlight guest speakers who share their cultural tea traditions. Also, there is my favorite (though it's hard to choose): Sooz's magical tea and mindfulness sessions.
With this gift, tea lovers can choose how to engage in the Being Tea space. If they aren't interested in the community aspect, they could join live events and choose not to interact. Or, they could access the library and the recordings after the live events. Personally, I recommend engaging the community elements. I've had so much fun getting to know other tea lovers in the Being Tea community and building connections with them.
Other Ideas and Ways to Connect
I hope you enjoyed reading Gifts for Tea Lovers, Part II. You can read Part I of "Gift Ideas for Tea Lovers" here if you are interested in my recommendations for tea-themed items like stationery, apparel, puzzles, and jewelry.
Would you like to stay in touch AND be entered (twice) to win a giveaway that I'll be announcing soon? Sign up by December 15, 2022 for the Tea Infusiast newsletter that will start in January 2023. This giveaway, unfortunately, is only available to tea friends who live in the USA or Canada (due to shipping costs). But the newsletter is for everyone anywhere.