This post shares my determination to make time to pause with tea, especially when I'm busy. It also explains the Virtual Tea Table, an online group that I created to help tea lovers cultivate a practice of pausing.
When life gets busy, it's so tempting to reduce or eliminate breaks. We need that time to work because there's so much to do, right? I have responded like this to the challenges of being busy for years–okay, decades. But, now that I know better, I am trying to do better. The Virtual Tea Table is one way I make time for breaks…and invite other tea lovers to join me!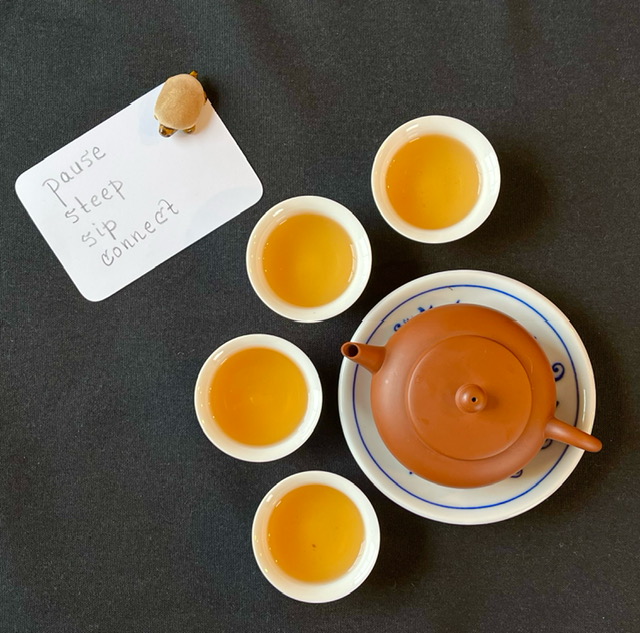 The Virtual Tea Table is an online group that meets biweekly on a weekday for 30 minutes. (In June 2023, it's meeting for three consecutive Thursdays.) It's a space for tea lovers to pause, steep, sip, and connect. I created the group to sustain a practice of pausing on a day that's typically a workday. Personally, I find workdays the most challenging days during which to take meaningful breaks. Can you relate?
Making Time to Reflect
My first series of the Virtual Tea Table–the winter edition–is winding down as I write this. So, I had to consider whether and when to run the next group. April and May are the busiest months of the year for me. The responsibilities in the non-tea parts of my life are heaviest then. So, I stopped to consider whether I had the time to host a spring series of the Virtual Tea Table.
A saying came to me as I considered how busy I expected to be. I've heard several variations of this Zen proverb: "If you are too busy to meditate for an hour, then meditate for two." Ooof. I see the challenge and the truth of this statement. Especially when we are busy, we need to be intentional about carving out space for restorative practices. But, what if I rephrased this dilemma: Am I too busy to make time to pause and take tea breaks? Being a human means I deserve and need pauses (and tea). As I have previously written, we need to "Resist the Cult of Productivity."
I Break When I Don't Take Breaks
I have learned the importance of taking breaks through my aching body, my spinning thoughts, and my restless heart. When I don't integrate pauses into my day, my body aches more at the end of it. I also have a harder time "turning off" my thoughts and getting to sleep at night. Without breaks, I start to dread each busy day.
Over time, I have come to realize that I need to sustain a practice of pausing even more when I am busy than when I am not. Tea, in its gracious generosity, has been a pivotal support in this practice. Human nature being what it is, having breaks scheduled, on a calendar–and other people to show up to share them with you–helps incentivize keeping the practice. I find it incredibly helpful.
Scheduling Time to Pause
So, although I am *not* doubling the length of sessions per the Zen proverb (I'm not *there* yet), I *am* offering a spring edition of the Virtual Tea Table. I know it will be a busy time. That's WHY it's as important as ever to take breaks. If you would like to join me for scheduled tea breaks with other tea lovers, our time together around the table will include:
a short pause to ground ourselves and be present
time to steep and sip a tea or tisane together (although it's fine to show up with it already brewed, too!)
a short reading with an idea or question relating to rest, pause, and things that are restorative
after quiet time to connect with our tea, toward the end of our session participants we will be invited (but never required) to share any thoughts or insights.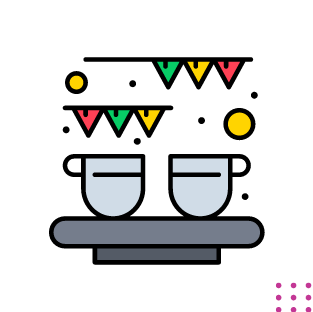 Spring Edition of Virtual Tea Table
Note: The Spring edition of the Virtual Tea Table is now closed, but the June gathering (with options to join as few or as many sessions as you like) is open for registration. You can see details and registration information about the June gathering here.
The Spring edition of the Virtual Tea Table group includes four sessions over eight weeks. Sessions are long enough to be restorative but short enough to integrate into your week day. It's our way of making time to pause.
We will meet biweekly, on four Thursdays, beginning April 13th.
Session dates are: April 13, April 27, May 11, May 25
Note: We meet every other Thursday between April 13 – May 25.
Time: 1:30-2:00 pm EDT (USA/CANADA)
The cost per session is about the price of a medium or large chai from a national coffee chain!
Newsletter subscribers pay only $19 USD ($26 CAD) for all four sessions (more than a 20% discount compared to the non-subscriber fee).
Tea friends who don't subscribe to the newsletter can join the Virtual Tea Table group for $24 USD ($33 CAD). If you don't already subscribe, but would like to, you can subscribe to the monthly newsletter.
I hope you will consider joining us. To quote Octavia Raheem, author of Pause, Rest, Be: "Slow down and dream a little." Together, let's create space for restorative tea breaks.