This post reviews a balbali portable electric kettle (AKA mini kettle) and shares some different approaches to traveling with tea.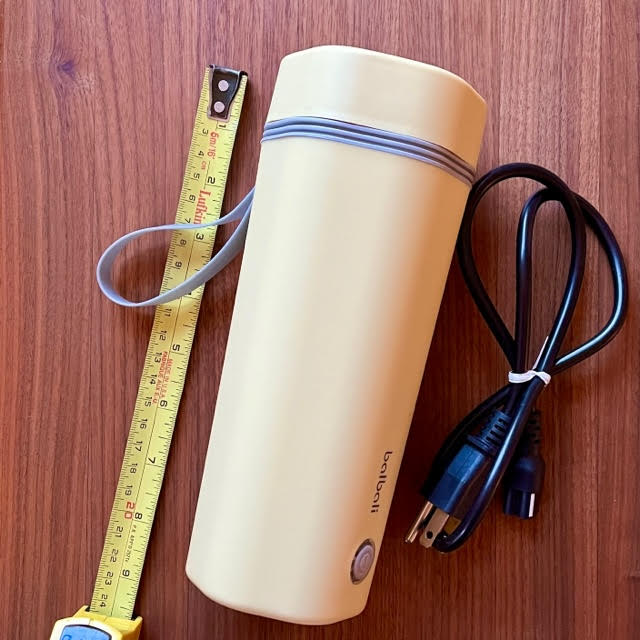 The Horror of Coffee-Maker Tea
Drinking tea every day brings me great pleasure. So, whether I am at home or on the road, I want to be able to steep up a great cup of tea. American hotels are not set up to help tea lovers do this well.
Every serious tea drinker has probably experienced terrible hotel-room tea while traveling in the USA. Away from home and without your normal kettle, you probably asked yourself: "how bad could it be, using the hotel's electric coffee maker to heat water to make tea?"
Maybe, like me before I purchased a portable electric kettle, you had to run this experiment several times in order to reach the same bitter conclusion: VERY BAD! Tea steeped with water run through a coffee maker always tastes like tea made with coffee water. It ruins the tea. Every time.
Looking for Better Hotel-Room Tea
Older, wiser, and more committed to avoiding coffee-water tea, I decided to purchase a portable electric kettle. I was looking for a travel kettle that would fit easily into my suitcase or backpack and could plug into a standard US electrical outlet.
I ruled out portable electric kettles in which the boiling water comes into contact with plastic or any material besides food-grade stainless steel. Likewise, I avoided the cute collapsible (AKA "foldable") ones that are shaped similarly to stovetop kettles. Call me paranoid, but I can practically burn myself simply by placing the words "collapsible" and "kettle" side-by-side!
Overview of balbali Portable Electric Kettle
I bought (and paid full price for–this review is NOT sponsored) a "balbali portable electric kettle for travel," personal size (AKA mini kettle), that can heat up to 350 ml of water. That's just under 12 ounces. It's about the size of many larger commuter mugs. My tea friend, La'Shell from Books by the Cup, has written a review of a different portable tea kettle. I'll link to her post at the bottom of this one so you can compare some models (and different approaches to traveling with tea).
I've used this kettle for many trips over the last eight months, including every day (usually multiple times a day) during a three-week work trip.
Note: Always follow the manufacturer's operating and safety directions! Models and advice may change.
Things I Appreciate about the Portable Electric Kettle
I love the following things about the portable mini kettle.
Color– It comes in four different colors on Amazon. I chose, and love, the sunny yellow
Size– The portable kettle is compact and slides easily into my suitcase or backpack. You can fill it up to 350 ml (roughly 12 ounces) of water. That's a great size for my tea sessions, gongfu or western-style.
Setup– The kettle's compact size gives it a small footprint. The power cord detaches for easy disconnect when pouring, filling, or packing.
Boil Time – Filled to the maximum pour line of 350 ml with water out of a faucet about 65F, the kettle boils in about 5 minutes and 30 seconds. (It boils faster if filled slightly less.)
Pour – Inside, the portable kettle has rounded edges. To my surprise and relief, it pours relatively cleanly. It's not like the pour of a gooseneck kettle (of course!), but it doesn't drip and run down the sides.
Safety – It has an auto shut off that activates when the water level gets too low or the kettle boils dry. Also, this model boils with the lid on (which feels safer to me than models that require boiling without a lid), but it does require remembering to open the safety valve on the top before boiling. The exterior of the kettle remains cool to the touch even when the water has boiled.
Cleaning– It was easy to empty, and dry the smooth, food-grade stainless steel interior once unplugged and cooled. The outside is also easy to wipe down.
Finally, here is something that might be a pro or a con of this portable electric kettle–depending on your perspective. Once you turn this kettle on, if you leave it plugged in, it will automatically reheat the water when it cools until the kettle becomes dry.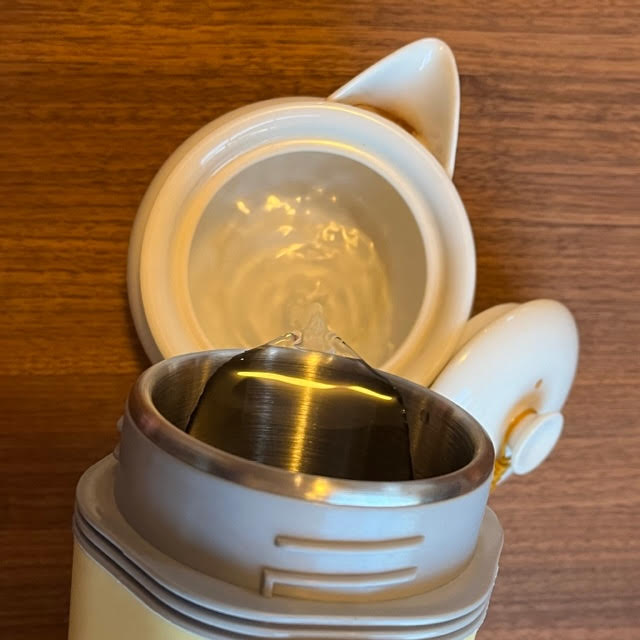 Notes of Caution/Awareness
Here are a few things about this small electric portable kettle (or maybe portable kettles in general) that aren't ideal and/or that you should be aware of.
Water temperature: This model doesn't allow you to set a temperature like many full-size electric kettles do. In this respect, it's more like a stovetop kettle. Also, when full and brought to a boil, I wait about 30 seconds to open it. When I do, the water temperature is about 195F. I ran this experiment again, this time with about 30 ml less water than the full line. The temperature 30 seconds after it came to a boil was 201F. So, you may want to take these temperatures into account when selecting which teas to steep or deciding how high to fill the kettle.
Safety: You need to remember to open the safety valve on the top to boil it (but the lid does have a printed reminder to do so). To pour the hot water, it's necessary to unscrew the top. So, it's wise to exercise caution. Also, while this kettle does list a "boil-dry safety protection," if the water in the kettle has cooled, it will turn back on until it's dry or unplugged.
Electrical cord: For safety reasons, the electrical cord is relatively short and detachable. (I think this is standard for electrical items that get hot.) The cord length has never been a problem for me in a hotel. The cord is the same length as most coffee maker cords I have seen. But, if you are trying to use it in a place that isn't a hotel or doesn't have plugs above a kitchen counter, this could be a challenge.
Size: While 350 ml is a perfect personal size for me, if you are looking to serve tea for multiple people, you may have to refill the kettle to get enough water. I've done gongfu cha for 2 or 3 people with it, and refilled in between some infusions with no trouble. If you want to have 2 or 3 people enjoy a big mug of western style tea at the same time, you will need a bigger kettle.
Approaches to Traveling with Tea
How you travel with tea is a personal choice, based on your preferences and trip constraints. La'Shell from Books by the Cup, for example, likes to keep it simple. She packs a portable electric kettle and a ceramic flask/tumbler that isn't fragile. She also takes biodegradable sachets to steep her loose leaf on the go. #SteepsOnTheGo is a hashtag she uses.
I've used every approach you can imagine. And, I can fully appreciate the advantages of simplicity. Lately, however, it has been less stressful and more pleasurable for me to pack a travel gaiwan or small gongfu teapot and accessories rather than to leave home without them. It's a grounding part of my day, even when I travel.
I have a beautiful, handmade tea travel bag that I discuss in "A Lesson about Beauty from Tea Life." It can easily hold, for example, a gongfu pot, small teacup or two, fairness pitcher, and tea strainer. I gently wrap my tea accessories in cloth napkins before I pack them. I appreciate having the pretty cloth napkins for my tea sessions and they are useful if I need to pack up damp teaware.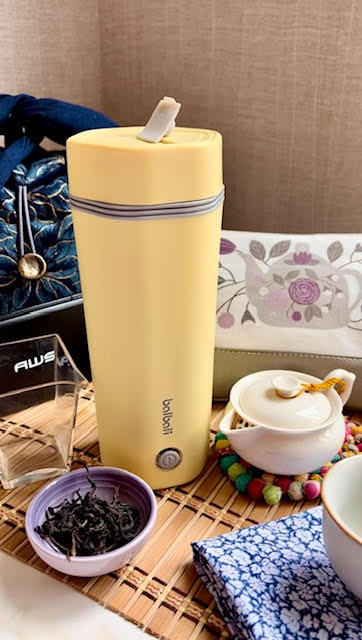 Depending on the situation, I pack my loose-leaf tea either in a small box or in a lovely zippered pouch with a teapot on it that I bought from Tea Thoughts.
Until recently, I was also packing fillable tea sachets. But, I noticed I almost never wanted to use them. That said, they *are* super handy if I am going out to eat somewhere that doesn't have the kind of tea I drink. So, I do sometimes use them at restaurants. I will order a cup of their tea and ask them to put the tea bag on the side, then I steep my own tea leaves.
Bottom Line and Another Portable Electric Kettle Review
There's no wrong or right way to travel with tea. Whatever makes you happy and works for you is great! That's what I love about a tea practice. It is flexible, customizable, and as simple or involved as you would like to make it.
One thing I hope we can all agree on, however, is how bad coffee-water tea is. 😉
Read another perspective and a review of a different portable kettle at the Books by the Cup blog. You can access La'Shell's post, "Steeps on the Go." You can also find @booksbythecup on Instagram. We'd love to know how you tend to travel with tea. I invite you to share in the comments!
Like to stay in touch? Find out about blog posts, and get advance notice and/or discounts for tea events and other things Traci is organizing. Sign up for our monthly newsletter! (You can unsubscribe at any time.)