Have you ever toggled between reading two books and found a beautiful and fruitful convergence? That happened to me last week and it felt like a gift. It was as if the universe kindly underscored a message so I would be sure to receive it. That message was about rejecting a culture of scarcity.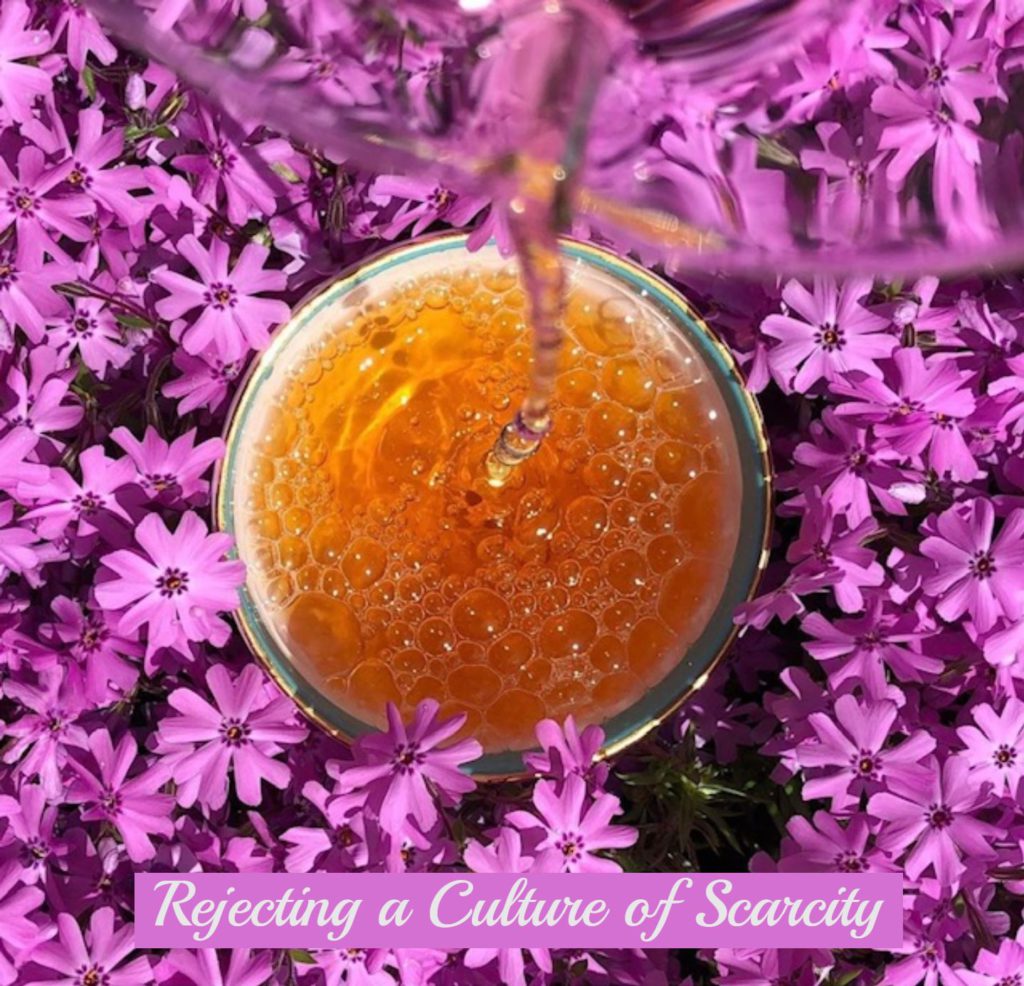 Taking Time to Be Well
Since January, I have been trying to practice more health-promoting behaviors. I was more mindfully sipping my tea, stretching most mornings with a short yoga routine, meditating, and walking. Each of these activities brings me real, noticeable benefits. But, I soon realized how much time it took to do all or most of them daily–an hour or an hour and a half each day. I started to feel stressed about all the time it took! So, I started pairing down the number of activities I did every day. I even shortened the length of those I did: reducing the length of my walk, scrolling on my phone half way into my tea time, and so on.
It takes so much time to care for my body and mind, I thought, and time is so tight! I don't have enough time! Then my readings converged on the topic of rejecting a culture of scarcity.
Brown and Kimmerer on Scarcity
I am re-reading Brown's The Power of Vulnerability and reading Robin Wall Kimmerer's Braiding Sweetgrass. Both are professors and so much more. Brown and Kimmerer each earned a Ph.D. (the former in social work, the latter in botany). Each describes herself, respectively, as a story catcher and a story teller. Their styles and their grounding are very different: Brown proudly identifies as a Texan, Kimmerer as an enrolled member of the Citizen Potawatomi Nation. Despite their differences, both write eloquently about scarcity and its antidotes.
Both authors write about scarcity. I read Brené Brown declare "[w]e live in a culture of deep scarcity–never enough." Brown pointed out how we often wake up thinking we didn't get enough rest and go to bed be thinking we didn't accomplish enough. Similarly, Robin Wall Kimmerer explains that"[r]ecognizing abundance rather than scarcity undermines" an economic system that makes us think we don't have enough and need more. These passages helped me realize how mired I am in scarcity thinking. It spills over from my cultural conditioning. It oozes out from intense work place demands, and it creeps into my personal life. Scarcity thinking makes me believe that I do not have the time (or the right to take the time) to engage in healthy practices. It didn't occur to me that I could try rejecting a culture of scarcity.
Reject Scarcity to Survive & Thrive
What was I thinking–time is scarce, there are only so many minutes in a day–so I need to do fewer healthy things? Less health is okay because time is scarce? That doesn't make sense. And, let me acknowledge here that I know there are many different kinds of healthy practices people can do. I don't judge anyone for not doing these things. I also recognize that many people have very intense demands–as caregivers, struggling to make ends meet, etc. These demands may well make time scarce for them in a way that it isn't for me.
I am a caregiver who works hard. But, I am privileged to have a decent balance between resources and responsibilities. I support changing social structures so no one has to sacrifice themselves and their health to meet their care responsibilities. We deserve a society that helps everyone survive and thrive. (If you are interested in an organization that works for this kind of change, check out Caring Across Generations.)
An hour or *gasp* an hour and a half is really not too much time to spend daily to move, stretch, rest, and focus. Everyone deserves that time. So, the Brown and Kimmerer readings have reminded me to push back against capitalist culture telling me that I have to prioritize productivity to the detriment of my health. I am rejecting a culture scarcity. I will take the time to care for my wellbeing. It will take effort to stick with it when I feel like I need to get more done. I finally understand that on a deeper level.
Message received, Universe. Message received.
If you are interested in tea and mindfulness, you might appreciate my posts pairing tea and focus words or moTEAvational quotes.
Do you struggle with scarcity, too? How you push back against it? I invite you to share in the comments if you are so inclined.