Té Company is a tearoom in the West Village area of Manhattan in New York City. It specializes in Taiwanese tea and their own handmade and delicious tea snacks. You can also buy tea and snacks on their website. (Té is pronounced "tay.")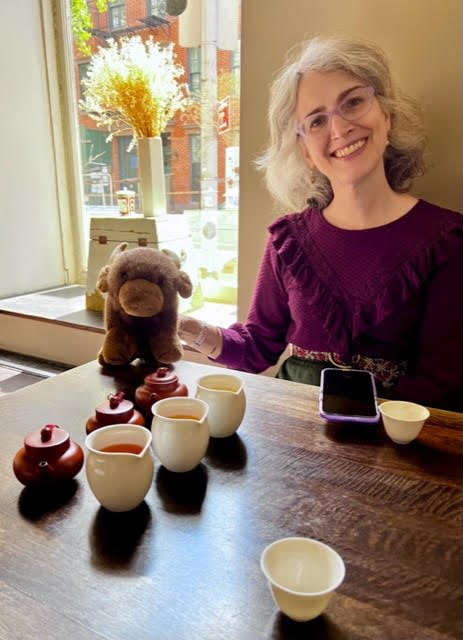 I can't believe I haven't written a review of Té Company before! I have visited Té more than any other teahouse in Manhattan. The calm and cozy space, thoughtfully curated tea choices, excellent service, and delicious snacks keep me coming back.
Enjoying Tea in the Manhattan Tearoom
Elena Liao and Frederico Ribeiro own Té. Their tearoom serves tea gongfu-style. That involves steeping in small clay teapots with a higher ratio of leaves to water and a shorter time than in the Western style of brewing.
Té seasonally changes their tearoom menu's selection of teas that you can enjoy during your visit, drawing from the wider selection that they also sell there and online. The menu always includes different tea types–black, oolong, white, etc.–and a couple of herbal, caffeine-free options. I've enjoyed so many of their teas! I'll give special mention to their Oriental Beauty Grand, Mount A-li, and Blossom Dearie.
Delicious Handmade Snacks at Té
The chef and one of the owners, Frederico Ribeiro, is a flavor wizard! Everything Té serves in their tearoom in Manhattan is delicious! (Full disclosure: I have only tried the vegetarian items. But, meat-eating friends have shared high praise for the non-vegetarian items.)
Although Té Company no longer sells lunch-type dishes, you can definitely piece together tantalizing sweet and savory items–even a perfectly roasted and irrationally delicious sweet potato–to make a light meal of sorts. In fact, I always plan to arrive hungry because I can't resist ordering multiple snacks there!
Pineapple Delicacies
No overview of Té Company would be complete without mentioning their Pineapple Linzer Cookie. It is, year after year, my favorite. (You can enjoy them in the tearoom, buy them to go, or shop for them on their website.) The cookie is bursting with flavor. It has the most wonderful balance of sweet, salty, buttery, and bright flavors. It has a lovely crunch, and then melts in your mouth!
Taiwanese Pineapple Cakes inspired their Linzer cookies. My taste buds are delighted to report that, this year, Té started making and selling those cakes, too. Also delicious!
Mooncakes to Savor
Their Taiwanese mooncake with a flaky exterior and lightly sweetened mung bean paste inside is very tasty, too. I have a friend who lives outside of the country that loves their mooncakes so much! She sometimes has them shipped internationally or encourages her spouse to pick some up whenever he is in New York (or New Jersey!) for work trips.
Tips for Visiting Té
Be aware: it's easy to walk right by Té. There's a small teapot on their window and on the modest wooden sign they hang up outside when they are open.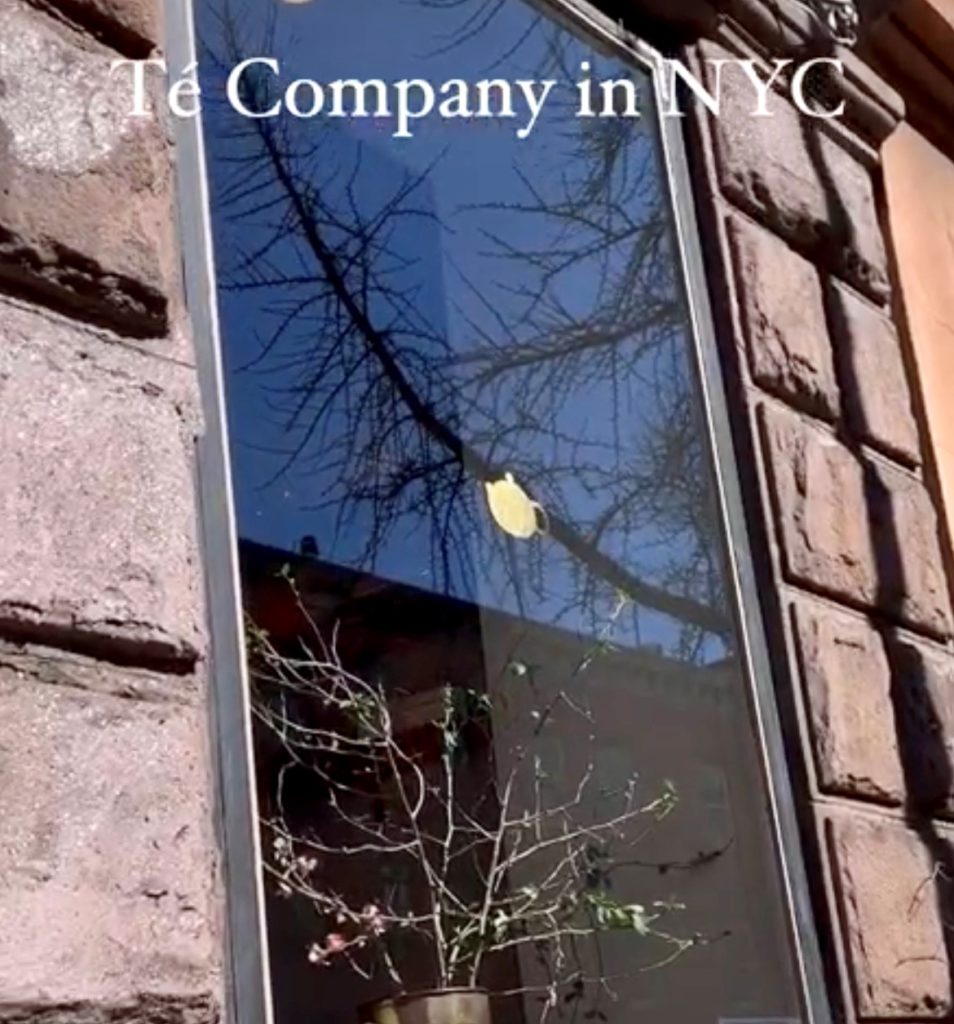 Inside, there aren't that many tables. This is the West Village, after all! So, if you come at peak times–especially during certain times on the weekend–you could have a wait since they don't take reservations. You can buy tea and snacks to go. Alternatively, they can take your number and text you when a table is ready. It's well worth it! (If you ever find yourself waiting, I heartily recommend perusing the nearby independent bookstore, Three Lives & Company.)
I keep returning to Té Company's tearoom in Manhattan because it's always such a wonderful experience. They serve delightful Taiwanese teas, prepared with care and skill. Moreover, it's rare to find a gongfu-style teahouse in Manhattan that also serves food, let alone such excellent food!
You can find Té on Instagram @tecompany.
Check out my short reel featuring the interior of Té (the side opposite the tables).
Interested in other teahouses in Manhattan? I have also reviewed T Shop in Nolita and Paquita in the West Village. On the opposite coast? Check out my review of four tearooms in Portland, Oregon.