Tea on the Trail began on June 1, 2018 as an art project to drink tea and photograph thrifted teacups on hikes. Nicole McKinney is the talented photographer, ardent tea drinker, and kind soul who created it. In honor of the five-year anniversary of Tea on the Trail, I asked Nicole to reflect on her experience.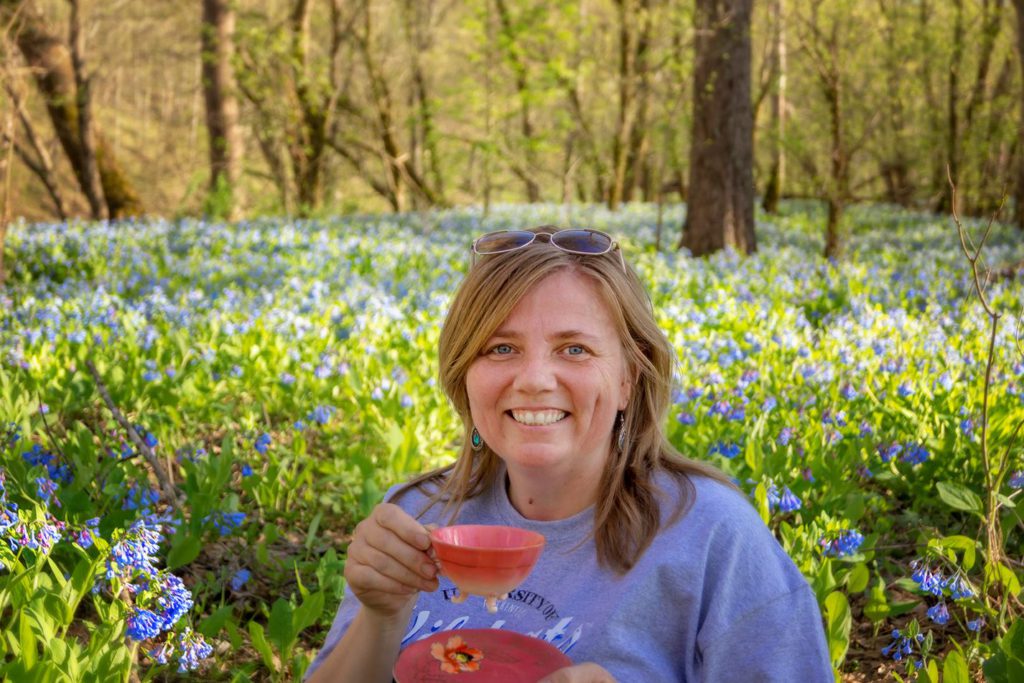 Read on for Nicole's advice on packing teaware for outdoor sessions, the reactions of other hikers, a tip for taking tea photos in nature, what Nicole adds to her kit during bear season, and more!
Here's our interview. My questions are in bold font. Nicole's responses are italicized in the bullet points that follow each question.
Preparing to Make Art and Tea on the Trail
How do you prepare for hikes with teaware and photography equipment? Has this changed in the last five years?
Nicole responds:
First I ought to say that what I call hikes, real hikers would call nature walks. For a mile or less, I prefer wicker baskets, small towels for padding, a flask of tea or a simple pocket stove and stainless steel camp pot.
My poor camera – once the star of the show- is relegated to a neck strap or small backpack. For longer hikes, up to 6 or 7 miles, I pack less, actually. Everything -camera, lenses, teacup/saucer, & flask fits into one backpack. No pocket stove; but I bring trekking poles, basic first aid kit, and during bear season I bring an air horn.
This is a bit different from the beginning – I used a lot more bubble wrap back then! Cloth and wicker are versatile- they look pretty in pictures, too. I also used to bring more camera equipment, multiple lenses, tripod and such.
Is there an art to choosing which teaware to pack for a particular hike? How to you choose?
Nicole shares:
Almost always, this depends on the tea. The cup shape, as well as the texture of porcelain, is optimal for certain types of tea. I have several cups I only use only for greens, others for white, others for flavored teas. One is my favorite for Darjeeling. Espresso cups are ideal for gong fu cha.
Limits and Costs of Art
Are there any teacups in your collection that you wouldn't take on any hikes? Why?
Nicole candidly admits:
Yes, indeed! One passed down from my great-grandmother; and certain others gifted from dear friends. I have a few sets 200+ years old. Such special cups might get their picture taken outside, but they certainly don't go on any rough terrain.
Have you ever broken any teaware on a hike? (You knew that question was coming, right?)
Nicole reveals:
On a hike? No, to my complete surprise; however, getting it back in the car (or out of it), washing it in the sink, or playing around in my own yard. Maybe in those situations I'm less careful. Bone china is remarkably resilient. It will bounce off logs and leafy ground with never a scratch. The two factors that seem to make it most vulnerable: if it has even the tiniest chip or crack, or if it contacts something manmade.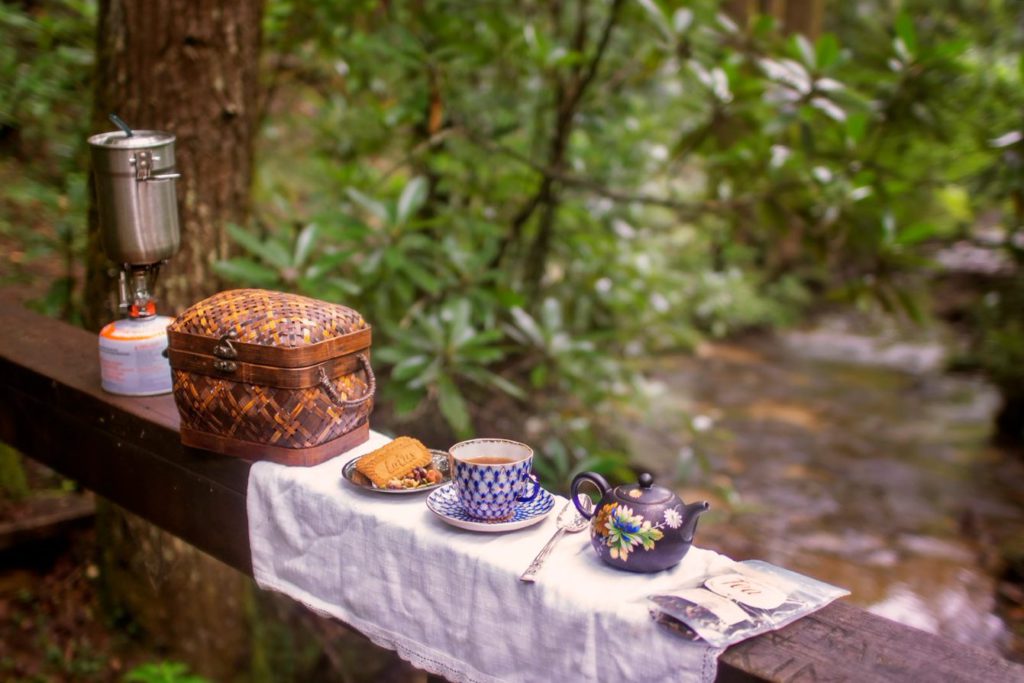 On the Trail with Tea
What reactions do you get when other hikers run across you drinking tea out of porcelain cups or taking art photos of teaware on the trail?
Nicole, amused, replies:
I love this question! Its pretty humorous- some carefully avoid the eccentric lady, and keep their children close. Then there are the intensely curious, trying to hide it. Others are friendly and openly amused. On a hike in Hawaii, one hiker asked if she could take a picture of my tea setup!
What's your favorite and least favorite part of hiking with teaware?
Nicole thoughtfully shares:
So this is a paradox. Incorporating a somewhat formal tea setting into a hike can make me fully present; more aware of my surroundings. That's my favorite part. But sometimes the desire to capture and share the tea session is, also, distracting. I guess you could say that my favorite part is slowing down to notice the beautiful details. My least favorite is when the desire to be "Insta worthy" makes actually perfect details seem somehow "less than."
If you could give tea lovers one piece of advice for taking a good outdoor tea shot, what would that be?
Nicole shares some advice:
Find the sunlight. You [Traci @teainfusiast] started the hashtag #SunShiningInMyTea and I love that! Tea is quite luminous, and contains a surprising spectrum of colors. If I could only give one piece of advice, it would be to shoot from an angle where the sunlight hits the tea like a prism.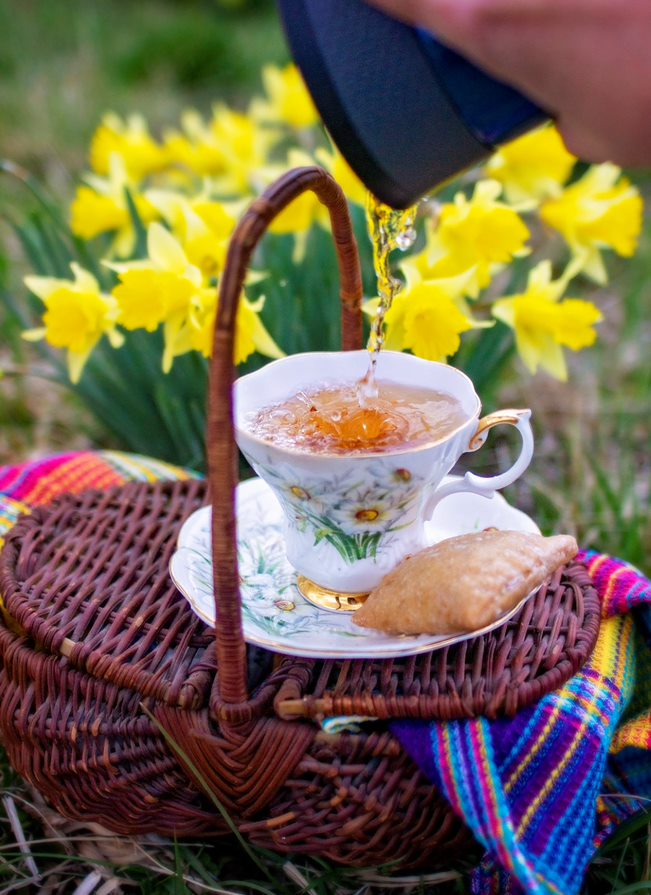 Reflecting on the Journey
How has the experience of these five years of the art project consciously taking and photographing tea on the trail been the same and different from what you expected?
Nicole reflects:
Nature is healing, that's still the same. My overall message- that one should use the good china, not leave it on the shelf- has only gotten stronger. [Traci can't help but adding "Absolutely" to these sentiments!]
I thought I knew tea at the beginning, which is laughable! You could say that back then, I thought I knew more than I know now! Learning about the history of porcelain, that's been a unexpected pleasure. I must say I wasn't quite expecting to acquire so many wicker baskets and vintage linens. I'm not, by nature, a collector of things.
The generosity of the tea community has been a delightful surprise. And, to be frank, I started this with more of a focus on portraying the experience, rather than personally experiencing it. So now the journalistic part of what I do has become more authentic… which is more challenging, but overall more rewarding.
What surprised you about the @tea_on_the_trail Instagram or Tea on the Trail Facebook accounts that you run?
Nicole responds:
The mysterious algorithm, I must say. The advice about how to work it gets outdated pretty fast. Eventually, I gave up on the algorithm and just starting posting "really me." This results in posting more personal thoughts than I expected to.
Selling the Art Work
I note that your photography website sell prints and mugs of some of your beautiful tea on the trail art shots. Do you know who your customers tend to be–for example, are they teahouses, tea professionals, individual tea lovers, or a mix?
Nicole shares:
Not so much, although I am quite curious! Sometimes, with my (non-tea) art photography, family or myself notice my work in commercial applications. So, my dream, sort of, has been to come upon my prints hanging in a teahouse. It's a pretty good excuse to visit every teahouse possible.
Final Thoughts
If you are a tea lover and aren't already following Tea on the Trail on Instagram and/or Facebook, I heartily recommend you do! Her photos and thoughts on each session artfully capture the essence of a special tea time. They convey the essence of nature, the changing seasons, and the moods that inspire her choice of tea and teaware for each session. Her tasting notes and reflections on that session's hike are really helpful and delightful, too! Nicole's post have inspired me to be braver and think more creatively about what I pack and how I take photos during my own tea walks! (You can read about one extended experience I had with tea in nature in my "Tea in the Canyon" post.)