Afternoon teas are full of sensory delights–delicate porcelain, fragrant tea, fine tablecloths, tasty sandwiches, buttery scones, and dainty desserts. Still–I have a confession. Despite being a tea lover, I have a problem with afternoon tea.
Two Issues with Afternoon Tea
Although I love every component of the tea service, I have a problem with afternoon tea, at least as I have experienced it served in many places in the United States. There are two issues for me–the mix and the quantity of food served.
Traditional afternoon tea includes bready and rich sandwiches, buttery and bready scones, and rich (often flour-based) desserts. Each is delicious by itself. But, when all are paired together, as they are on a traditional three-tier tea stand, it's too many carbs and too much sugar for me all at one sitting. I do not have any *moral* judgement on putting these things together. None at all! I simply don't like the way I feel when I eat all these foods at one sitting. That makes afternoon tea a problem for me.
Since I cannot eat this mix and quantity of food, saving some to take home is an option. But, if I am visiting a city or attending an afternoon tea on vacation, I often can't take or safely store leftovers. So, I feel bad for wasting food. These problems increasingly push me to avoid traditional afternoon teas.
A Proposed Solution
By all means, keep the traditional afternoon tea option. So many people love it. And, they should be able to enjoy it. In fact, I thoroughly enjoy many aspects of the experience. I would, however, love to see more varied afternoon tea menus. Tea sandwiches, and maybe a scone and a dainty sweet–yes! (I am a devout cookie lover, after all. Have you seen my shortbread cookie recipe?) It would be great to have an option with more fruits, vegetables, and proteins appearing on that three-tier tray. Imagine, for example, small fresh fruit kabobs that incorporate fresh mint or basil, colorful crudités accompanied by herbaceous dips, spiced walnuts or almonds, stuffed red cherry tomatoes, and so on. That's how I would solve my problem with afternoon tea.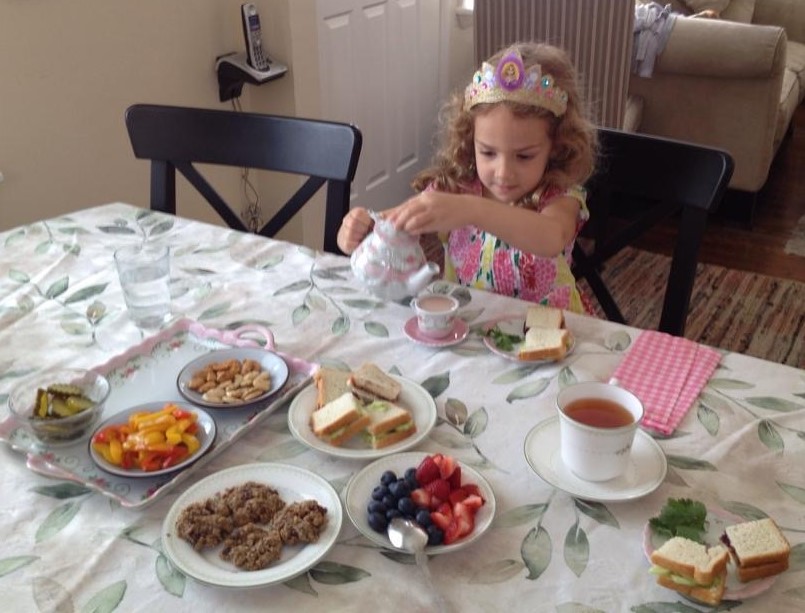 I just made myself hungry!
And, one more thing while we're here. I'd also make sure the tea leaves can be conveniently lifted out of the teapot so they stop steeping once the brew reaches the desired strength. But, that's an issue for another post!
What are your thoughts on afternoon tea?